We made laundry detergent for ourselves and I decided that even though it was a LONG time ago, I wanted to share it here:
I found the recipe at Being Creative to Save My Sanity (love that title!)
The items you will need are:
1 four pound,  12 oz box Borax
1 four pound box Arm & Hammer Baking Soda
Now, you will need a LARGE container; I bought a huge blue bucket from Lowe's, and of course, the lid.
You will also need a grater – don't use one that you'll need later because I don't know if you can really get the soapy taste out of it.  I went out and bought one just for making detergent; they aren't really expensive and I thought it was worth it.  If you've got a hubby with tough gloves, grab them and borrow them.  You'll find out why later.
One last thing:  a BIG plastic bag – I grabbed a garbage bag.  Also if you've got a teenager, they like to make messes and mine thought this would be a fun project and he helped.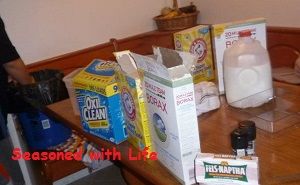 Oh, and ignore the milk jug.  You won't be adding that to the detergent; that is from hubby, who sat there eating his cereal and watching us.
Directions:
Place the plastic container on a chair so that your back doesn't hurt from stooping.  Place the garbage back in the container.  Pour in some Oxy Clean, then some Baking Soda and some Borax, then some Super Washing Baking Soda.  Not too much, just don't fill the bucket yet.  Use your gloved hands to move it all around and blend.  Now, grab the grater and start grating the Fels Naptha Soap into the mixture.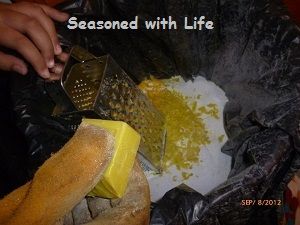 Repeat until almost everything is in the bag – don't overfill the bag because now you have to dump it into the blue bucket.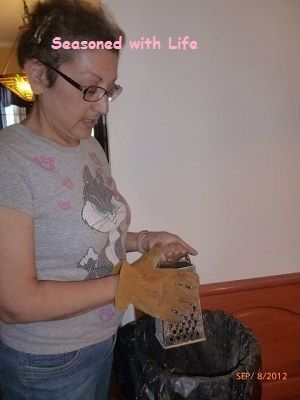 You can keep adding to the blue bucket.  The bag can be very heavy, so this is a good time to wake hubby up from his nap in the recliner to pick it up and dump it for you 🙂
The finished product: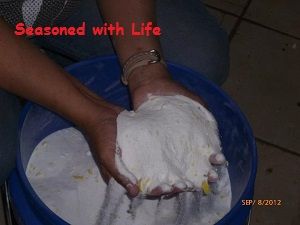 Now, if you look at the date that the camera dated these photos, you'll see that we made this tub of detergent in September, 2012.  By using the one or two tablespoons as directed for each load of laundry, I still have HALF of the bucket filled with detergent.  I'm not going to make any more until after we move.
Did you catch it earlier when I said you only need ONE or TWO tablespoons of this detergent for your laundry?  It's true.  It lasts a LONG time and it's better than the chemically-filled stuff you buy at the grocery store at an enormous price.  I can't remember exactly – it's been a long time, remember? – but to buy the ingredients and bucket and container, I think it cost less than $40 and look how long it's lasted!
A bargain.
Oh and my husband and son have super-sensitive skin and this detergent hasn't harmed them or made them itchy.  We are on a septic tank and have had no problems.
What else can I say?  Try it out!
One more thing:  here is the link to the  fabric softener sheets/towels.  They are great, too.